Waste water treatment plant discharge standards, water treatment industry increased costs or profits?
The battle of water pollution prevention and control is in full swing. Sewage treatment plants play an important role in this battle. In recent years, sewage treatment plants have developed rapidly. According to the data released by the Ministry of Housing and Urban-Rural Construction, 3991 sewage treatment plants were built and operated in cities and towns nationwide in 2016, with a sewage treatment capacity of 173 million cubic meters per day and a total of 54.24 billion cubic meters of sewage, an increase of 6.1% over 2015.
Despite the rapid development of sewage treatment plants, more wastewater needs to be treated. According to the National Environmental Statistics Bulletin (2015) issued by the former Ministry of Environmental Protection in 2017, the total amount of wastewater discharged in China is 73.53 billion tons. It is about 73.53 billion cubic meters, which is 35.6% higher than the total capacity of national sewage treatment plants in 2016.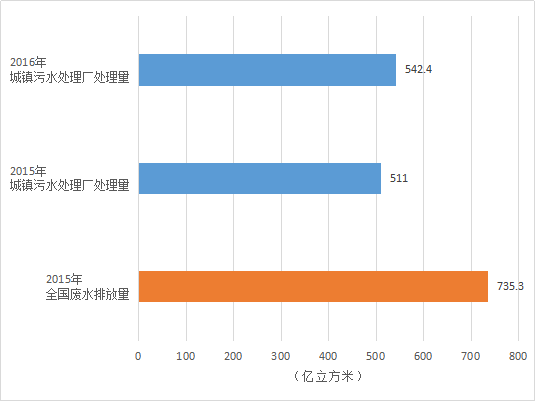 Synchronized Improvement of Quality and Quantity in Sewage Treatment Plant
From the above data, there are some gaps in sewage treatment plants. For the construction of sewage treatment plants, the government also has target requirements. According to the Action Plan for the Prevention and Control of Water Pollution issued by the State Council on April 2, 2015, by 2020, all counties and key towns in the country will have the capacity of sewage collection and treatment, and the sewage treatment rates of counties and cities will reach about 85% and 95% respectively. Beijing-Tianjin-Hebei, Yangtze River Delta and Pearl River Delta were completed one year ahead of schedule. From the urban sewage treatment rate in 2015, only 69.5%. However, the annual growth rate of wastewater treatment is faster than that of wastewater production. It is only a matter of time before the target treatment rate is reached. In addition to the requirement of quantity, the requirement of quality of sewage treatment plant is also required.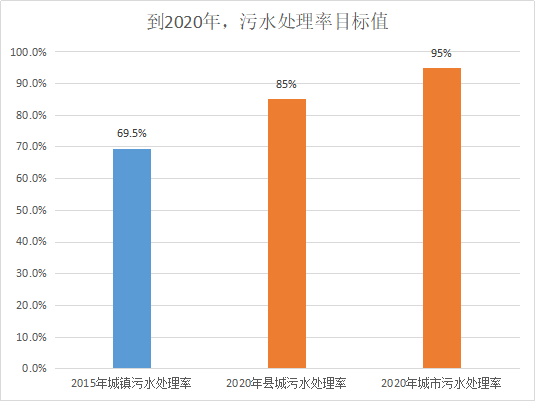 From April 2, 2015, when the Action Plan for Water Pollution Prevention and Control was issued, all sewage treatment plants completed before the first half of 2015 need to be upgraded. According to the circular issued by the Ministry of Housing and Urban-Rural Construction on the construction and operation of municipal sewage treatment facilities in the second quarter of 2015, 3802 sewage treatment plants have been built in cities and counties with a sewage treatment capacity of 161 million cubic meters per day by the end of June 2015.
Due to the different scale and scope involved in the upgrading project of sewage treatment plant, there is also a large difference in the investment amount of PPP projects. The lowest is only 20 million yuan, and the highest is close to 1 billion yuan.
Under PPP mode, the assumptions of project operating income and cost are consistent with the implementation plan. The unit price of sewage treatment service fee is 0.6639 yuan per cubic meter. Annual operating expenses mainly include pharmaceuticals costs of 15.207 million yuan, electricity costs of 428.8 million yuan, water costs of 28.6 million yuan, wage increases of 281.2 million yuan, repair costs (including daily maintenance and overhaul) of about 406.4 million yuan based on 1.5% of the construction investment, and other and management costs of 258.5 million yuan.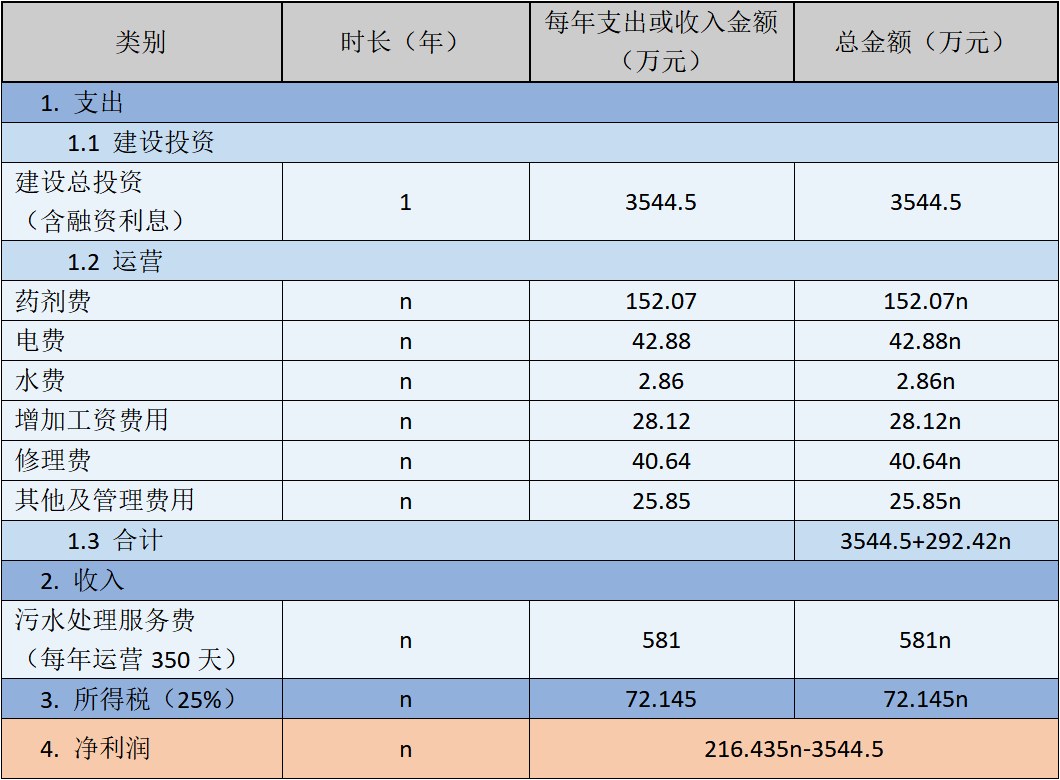 From the above estimates, it is worth noting that the net profit is 216.435 n-35.445 million yuan. When n = 17, the net profit is positive. The first year is the construction period. From the second year, we can calculate the net income of 27.3211.15 million yuan in 29 years of operation, assuming that the unexpected factors such as market changes are not taken into account.
PPP model is inconsistent with the profit obtained by the above algorithm. In the PPP project of municipal sewage treatment plant upgrading project, the government will spend a part of the previous investment, assuming that it is x0,000 yuan. If it is a PPP project, the net profit of the project company can reach 216.435n-35445.5+x0,000 yuan. Assuming that the unexpected factors such as market changes are not taken into account, according to the project plan, the net income of the project company can be 2732115+x0,000 yuan in 29 years of operation, and the annual return rate is (2732115+x)/30 (3030-x).
That is (2732.115+x)/(90900-30x)
At present, the annual rate of return of PPP project is less than 10%, if the rate of return of PPP project reaches 10%, the amount of government investment is 15.89 million yuan, accounting for 52% of the amount of previous construction investment.
Bidding upgrading of sewage treatment plants has increased costs both in construction and operation, but increased PPP project orders in sewage treatment industry. From the 5.7% yield, plus other additional revenue such as government subsidized funds, project profits are also considerable.